Tick Tock: Time to Check Your Pet's Fur For Tick Bites!
First thing's first, let's explore the basic properties of this irritating arachnid.
What is a Tick?
The common tick is a bi-sectioned bloodsucker; its front end contains its head and mandibles, the posterior contains digestive and procreative organs. They can be found nearly anywhere there is a healthy supply of plasma to poach, but ticks thrive in warmer wetter climates. They feed on the blood of mammals, birds, and even the occasional reptile. They are carriers of numerous diseases, ranging from the somewhat benign to the severely detrimental.
How Bad are Tick Bites?
Bad. Ticks bites have been known to transmit diseases like: Lyme disease,
Q fever
Colorado tick fever
,
Rocky Mountain spotted fever
,
African tick bite fever
,
tularemia
, tick-borne
relapsing fever
,
babesiosis
,
ehrlichiosis
,
Tick paralysis
and
tick-borne meningoencephalitis
, as well as bovine
anaplasmosis
.
The most common and infamous of these: Lyme disease is a debilitative bacterial condition. People suffering from Lyme disease may suffer from fatigue, headache, depression, fever, and an extreme skin rash. Left unchecked, Lyme disease can begin to affect a person's joints, cardiac, and central nervous systems.
How to Find a Tick:
A visual and tactile inspection is usually enough to root out the invaders. Before inspecting a dog or cat, grab a pair of latex gloves preventing direct contact with the infected skin around a tick bite. Look or feel around your pet's skin for a small lump. Pay close attention to areas with less hair and more access to the skin. Around the face or ears are favorite haunts of the greedy parasites.
How to Remove Ticks:
Removing ticks is a simple process, yet one that's easy to mess up if you attempt it haphazardly. It's best to use a pair of tweezers. Using a deliberate but constant movement, pull the tick out of the skin. Take your time. Going too swiftly can leave the head still embedded in the epidermis, increasing the risk of infection. Now that you've got the tick out, here comes the fun part: burn him like a Salem witch. Once you hear a satisfying "pop" from your tiny funeral pyre, take the remains and insert into toilet. Play some bagpipe music in the background and send the ashes to a watery grave.
Make sure to disinfect your tweezers afterward.
Preventing Tick Bites:
There are a number of highly effective methods to keep your pet free from tick bites. Most of the common monthly anti-parasitics designed for dogs and cats will do the trick. There are also
specialized collars
that will step of the level of protection. Of course, you could always just keep an inside dog/cat, but that would deprive your playful pup or kitty the joys of rolling in mud or chasing birds, respectively.

But why would you want to disappoint a face like this?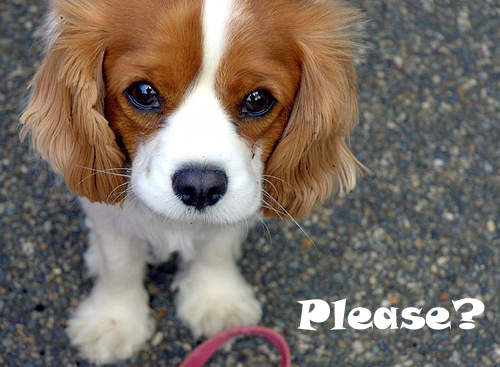 Keep checking back for more helpful pet information, and be sure to explore the rest of the site for great deals on all your favorite pet medications.